John Coltrane Autograph (And More) On Ebay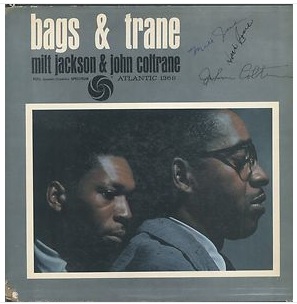 Oh, it's a nice time on eBay when we get to watch auctions from both the Jazz Record Center and bobdjukic.
How much would you like a John Coltrane autograph? I know I would. This is from the Jazz Record Center: John Coltrane, Bags and Trane, Atlantic 1368. This is listed as an original mono pressing with the red and purple labels — although, for the live of me, I still can't get the original Atlantics straight once they are past the black labels — but the key to this record is that it is signed by Coltrane, Milt Jackson and Hank Jones. The record and cover appear to be in about VG++ condition. The price is around $750 with more than two days to go. From the same auction is a Jazz at the Philharmonic program from 1956 with a bunch of cool autographs, including Dizzy Gillespie, Stan Getz, Connie Kay, Milt Jackson, Roy Eldridge and Flip Phillips. There's one bidder for this one, so far, and the price is $100.
I was browsing through jazz vinyl eBay listings and saw the words "insanely rare" and figured the controversial (at least here at Jazz Collector) seller bobdjukic was back in action, and he is. This insanely rare record happens to actually be insanely rare, if rarity can be coupled with insanity: Jutta Hipp, New Faces, New Sounds From Germany, Blue Note 5056. This is the original 10-inch Blue Note that looks to be in VG++ condition for the record and the cover. The current price is $528 and there are still five days to go. Perhaps we'll get an insanely rare price for this insanely rare record.