JRC Vinyl and a "Cheap" Colossus?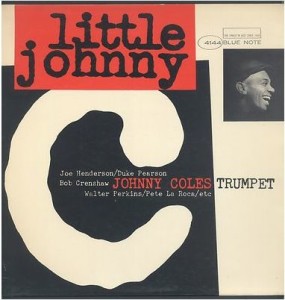 Just wanted to follow up on some of the items from the Jazz Record Center auction of last week.
Ted Brown Sextet, Free Wheeling, Vanguard 8515. This was an original pressing in M- condition for the record and VG++ for the cover. The simple post surprisingly generated quite a bit of comment. Perhaps that attention pushed up the interest in the record? It wound up selling for $510.
Johnny Coles, Little Johnny C, Blue Note 4144. This was an original pressing in M- condition for the record and cover. When I did the post there were no bids at $100. The bidders eventually jumped in, pushing the price to $338. As one of the commenters suggested, perhaps that is a nice bargain for a great record.
This one was listed as a John Coltrane record, but in my collection it sits under "H" with Wilbur Harden as the leader: Mainstream 1958, Savoy 12127. This was an original red-label pressing in M- condition for the record and probably VG++ for the cover. It sold for $272. Probably a good idea to list it under Coltrane.
Sonny Rollins, Saxophone Colossus, Prestige 7079. This was an original New York yellow label. The record was probably in VG++ condition with a couple of light ticks. The cover looked VG++ or M-. The record sold for only $976. I say "only" because that is a relatively low price for an original Saxophone Colossus. My guess is the price suffers because the Jazz Record Center is so meticulous in its grading and descriptions. I'm sure those few ticks are very light — I bet other sellers would probably consider it M-. And they would probably get a bid up in the $2,000 range. Heck, some sellers of "insanely rare" records might even get into the $3,000 range, know what I mean?