Keeping Track of 10-Inch LPs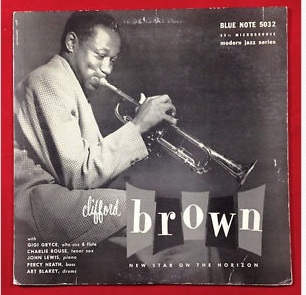 Here are some of the items we're watching on eBay now, starting with some 10-inch LPs: Clifford Brown, New Star on the Horizon, Blue Note 5032. This is an original pressing listed in VG condition for the record and VG for the cover. There are three days left on the auction and the bidding is in the $50 range. Lately, we've been seeing high prices for original 12-inch Blue Notes, even those in not-such-great condition, like this one. I have a feeling we won't see the same phenomenon for the 10-inch records, simply because they are a greater risk to begin with. They typically have more surface noise anyway, at least to these ears. Not sure why that is. Readers? Watching the auctions from this seller will give us a sense of the market, since he has a lot of nice 10-inch LPs in similar shape, including Thelonious Monk Plays, Prestige 189. Actually, this one is in better shape, graded at VG+ for both the record and the cover. The bidding, so far, reflects the better condition. This one is now in the $70 range.
I was also watching this one from the same seller, and I was surprised it fetched as high a price as it did:
Lee Konitz, The New Sounds, Prestige 116. This was also an original pressing and it was listed in VG condition for both the record and the cover, with tape around the seams and some surface noise. Still, it sold for $133. 40. Perhaps it is the presence of Miles Davis on the LP, or perhaps it's just that these 10-inch Blue Notes and Prestiges are hard to get in any condition. And they do look quite cool.
One more that surprised me somewhat: John Coltrane, Giant Steps, Atlantic 1311. This was a stereo pressing wight the bullseye label. The record was M- and the cover was VG++. The price was $494.44. This is a pressing that's gone up quite a lot in value the past few years. Back when I started Jazz Collector in around 2003. I purchased a bullseye copy of Giant Steps for $50 and readers gave me hell. I guess it wasn't such a bad buy after all.