Kind of Blue For the $1,000 Bin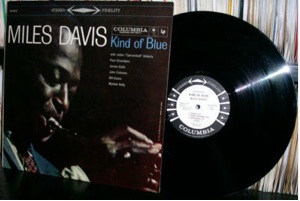 A couple of people have sent me notes on this one. I guess it struck a chord (presumably a modal chord): Miles Davis, Kind of Blue, Columbia 8163. This was a white label stereo promo copy that was in M- condition for both the record and the cover. It was the same seller as the one who recently fetched more than $2,000 for the Mobley 10-inch Blue Note. This one sold for $1,338.87. Welcome to the $1,000 bin for probably the most popular and widely available jazz record ever.
While we're updating the $1,000 bin:
Hank Mobley Quintet, Blue Note 1550. This was an original pressing. The record was listed in VG++ condition and the cover was in between VG+ and VG++. It was a reputable seller and the price was $1,815.
This is destined for the $1,000 bin, or the $2,000 bin or perhaps even higher: Tina Brooks, True Blue, Blue Note 4041. This is an original pressing and it is listed in M- condition for the record and VG+ for the cover. As of this writing it is about $1,250 with three days or so to go.