Kind of Blues & The Abstract Truth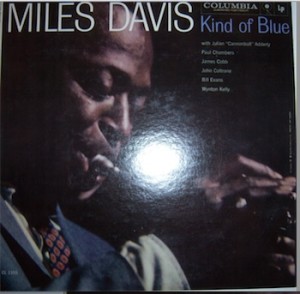 Let's catch up on some rare jazz vinyl we've been watching on eBay, starting with Miles Davis, Kind of Blue, Columbia 1355. This was an interesting one because it looked to be an original first pressing and the record had never been played. When this album was first issued, Columbia used a plastic inner sleeve that had a seal. I know that from a couple of albums I purchased in the Baltimore collection. On this particular copy of Kind of Blue, the seal had never been broken. The cover also looked to be quite pristine and was graded in M- condition. The record wound up selling for $510, a fairly hefty price for the highest selling jazz record of all time. The question is, what will the buyer do with the record? Will he/she open it and play it, thus potentially lowering the value? Or will he/she put it on the shelf for posterity and listen to a different copy of the record, which is so readily available?
Here's another classic album that fetched a nice price: Oliver Nelson, the Blues and the Abstract Truth, Impulse 5. This was an original mono pressing with the first cover, orange label and Van Gelder in the dead wax. This one was listed in M- condition for both the record and the cover and it wound up selling for $265. Pretty nice when you can have both Bill Evans and Paul Chambers in your rhythm section, as both of these albums can boast.
I took a shot at this record, but my bid wasn't high enough: Elmo Hope Meditations, Prestige 7010. This was an original New York pressing that looked to be in VG+ condition for the record and the cover from a very reputable seller who, in my opinion, would be more prone to under grading condition rather than over grading. When I looked at this record, the bidding was well less than $200 and I put in a snipe in the $250 range. It wound up selling for $393, which seems like a fair price. I would suggest it may be below market value, but, because it sold on eBay, it sold at precisely its market value. eBay, like it or not, makes the market these days.
As mentioned on an earlier post, I had my eye on this one as well, but didn't wind up bidding because I suspected it would sell for a price beyond my comfort zone: Lou Donaldson, Quartet, Quintet, Sextet, Blue Note 1537. This was an original Lexington Avenue pressing in M- condition for the vinyl and probably VG for the cover. When I looked at it the top bid was in the $250 range. It wound up selling for $622 and, yes, that is out of my comfort zone. Not saying the record isn't worth that much or more. Just saying that I still like to hunt for bargains and I'm okay not owning every single record I desire. The thrill of the hunt is still quite alive for me, thank goodness. It's one of the things that makes collecting so much fun. Just paying top dollar to own every record, even if I could afford it, would change the nature of the game for me. But I don't at all begrudge anyone who takes that approach. I'm fortunate to have been at this for 45 years or so, and I remember being able to walk into a used record store on a lucky day and buying original Blue Notes for $5 a pop.