Mail: Byrd, Monk, Sun Ra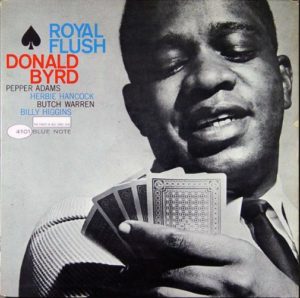 Catching up on some email. Here's the story of a fun score from a new reader:
"Hi, I am fairly new to jazz vinyl collecting and listening. I have been drawn to the 50's and 60's jazz and LOVE your site. Unfortunately so much of this vintage jazz is way out of my budget. I have been buying when and what I can afford. Wanted to share this: This past weekend I was in a vintage shop with my wife and wasn't sure I would find anything. In the back was a small box with some records. I start flipping through them like I always do when I find records in vintage/antique shops. I run across a Donald Byrd – Royal Flush BLP 4101 original pressing. The vinyl itself is VG in appearance, plays somewhere between VG and VG+ and the cover is VG+. The price on the album was $10. I was elated and couldn't get the money out of my wallet fast enough! Hope I didn't bore you. Thanks for your site and keep the posts coming as it is helpful in my jazz education!"
I'm on some mailing promotional lists, although nobody really sends me promo records anymore, with some rare exceptions. Mosaic was nice to me at one point, but I think they didn't like a review I did on their Rosemary Clooney set, so they stopped returning my calls and emails. I did get a great Monk-Coltrane 3-record set from Craft Recordings but, alas, I put it on my shelf and never reviewed it and now I feel guilty about asking for anything else from their or their publicity agents, who have kept me on their mailing list nonetheless. Which brings me to their latest release, which is the Thelonious Monk Complete 10-inch LP Collection, which is scheduled for release on December 15. This includes all five of Monk's 10-inch LPs, faithfully reproduced, the promo material says, from the jacket design to the LP labels. This is great music, hey, it's Monk! Plus, young Sonny Rollins, Art Blakey, Max Roach, Frank Foster, et al. If you are interested you can pre-order it at Amazon. If you don't have the originals – or even if you do – this is probably a worthwhile addition to your collection. I may even have to spring for a copy myself.
A reader sent me the following link with the following note: "Looks like Savoy is getting in on the action." The Futuristic Sounds of Sun Ra, Savoy 12169. This was an original pressing with the blood red label. The record and cover were both listed in M- condition. The final price was $761.11. I am not very familiar with the Sun Ra discography, but I take it this is quite rare. How is the music?