Mint Rarities Sitting in Storage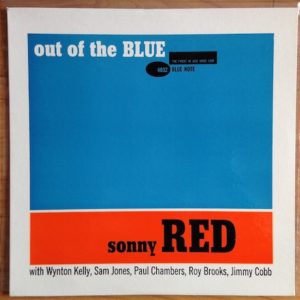 Back to eBay. Here's a beauty, which, if I recall my eBay sellers properly, is from our friend Rudolf: Sonny Red, Out of the Blue, Blue Note 4032. This is an original pressing that looks to be in pristine condition. The bidding is in the $160 range with more than two days to go, and I certainly wouldn't be surprised to see this eventually end up at or near the $1,000 marker. I'm noticing that this is part of a "rare storage find," so that in itself is quite intriguing. Perhaps Rudolf can shed some light for us. I would love a copy of Out of the Blue, especially since I once had a beautiful copy and traded it not realizing, at the time, how valuable it was and how valuable it would eventually become. I'll point out one more beauty from the list: Art Blakey, Buhaina's Delight, Blue Note 4104. This is also an original and it also looks to be in pristine condition. The bidding right now is in the $50 range, but it should sell for a lot more. I would love a pristine copy of this record, since it is one of my favorite Blue Notes of all time. Perhaps I will get in on the action, although I really haven't been buying at all, and especially not at eBay prices.
Here's one that is new to me: Joe Harriot Quintet, Swings High, Melodisc Records SLP12 150. This looks to be an original pressing listed in excellent condition for the record and the cover. The auction closes today, the start price is around $200 and so far there are no bidders. I did a quick search on this record and it typically sells for less than $100, although there are several instances of more than $100. Any Harriot fans out there. I had the Jazzland LP at one point, but I don't recall even listening to it.