Monday Morning Blue Notes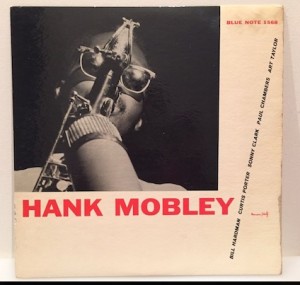 Catching up on some jazz vinyl from eBay, staring with Hank Mobley, Blue Note 1568. This was a West 63rd Street pressing without the New York 23. It had the deep grooves, ear and other hallmarks of a first pressing, or second depending upon your interpretation. The record was in VG+ condition and the cover looked to be about VG. The final price was $2,575. This seems to be one of those records that has taken on mythic proportions in the collectibles market. Who would have thought even a few years ago that VG+/VG would translate into a value of more than $2,500? A few years from now I would expect the value to be even higher. Speaking of Blue Notes in less than stellar condition:
That lot of 40 Blue Notes for sale under the listing Collection of 40 RARE Original Jazz Albums LP's All on the Blue Note Label wound up getting 32 bids from at least six different bidders. Two latecomers swooped in at the end and the lot wound up selling for $1,726. I imagine the seller will try to clean these up as best he can and get some value and/or enjoyment out of them (provided they are not filled with musk and mold).
It was noteworthy (to me, at least) that the above listing used Lou Donaldson, Blue Note 1537, as the lead item with picture and, at the same time, there was another listing for Lou Donaldson, Quartet, Quintet, Sextet, Blue Note 1537. This one was also an original Lexington Avenue pressing. The record was listed in M- condition and the cover was Ex. The final price was $1,265.
While we're on the subject of Blue Notes in less-than-pristine condition there is also this: Lee Morgan, Candy, Blue Note 1590. This looks to be an original pressing. The seller has a feedback rating of 93.3, which is about as low as I've ever seen for a seller with that many transactions. The record is graded at VG and the cover VG+.The start price is $450 and so far there are no bidders. There is also a reserve price. Have fun with this one.