Monday Morning Blue Notes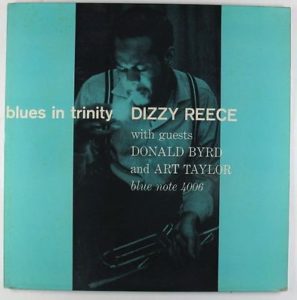 Let's catch up on some completed and upcoming auctions of rare jazz vinyl on eBay, starting with Dizzy Reece, Blues in Trinity, Blue Note 4006. This was an original West 63rd Street pressing in VG++ condition for the record and VG+. When we first started watching this record it was in the $125 price range but was seeing a lot of activity. We speculated that it may approach the $1,000 bin and it wound up selling for $906.80. This one, Lee Morgan, Candy, Blue Note 1590, was in the $925 range when we first spotted it and, based on the seller and condition — M- for the record and cover — we speculated that it was destined for the $2,000, but it came up just short, selling for $1,807. Finally, there was Kenny Drew, Undercurrent, Blue Note 4059. This looked like an original pressing with the one sided deep groove, although there was some dispute about that among the commenters. I guess the pictures weren't clear. It was a relatively new seller and the record and cover looked to be in M- condition. But the start price was quite high at $3,000 and there were no bids, so perhaps we will see this back on eBay with a lower price tag.
As for current listings, there is a new auction from the Jazz Record Center, including this heavyweight from my want list: Cliff Jordan, Blue Note 1565. This is an original New York 23 pressing that looks to be in VG++ condition for the record and VG+ for the cover, although the JRC typically does not assign grades on its listings. The start price is $250 with about four days left. So far there are no bidders, but we expect that condition to change well before the auction closes. From the same auction is The Incredible Jimmy Smith at the Club "Baby Grand" Wilmington Delaware, Blue Note 1629. This is an original Lexington Avenue pressing that looks to be in M- condition for the record and VG++ for the cover. The start price is $150, which is somewhat surprising given the general lack of interest — relatively, of course — in Jimmy Smith records, even the Blue Notes, and even the Blue Notes with horn players. But the folks at the Jazz Record Center have a great handle on the market, so I imagine this one will eventually wind up selling. I just noticed, in looking at their listings, that they entire auction is Blue Note, as is my entire post today, so I'm sure many of you will be interested in that.