Mono, Stereo, Blue Note, Riverside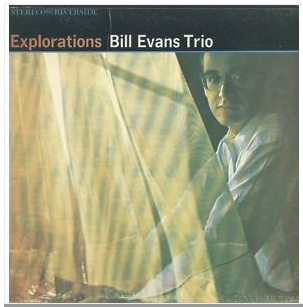 The Jazz Record Center has an auction closing this week. Not the normal list of heavyweights, but some nice records, including: Bill Evans, Explorations, Riverside 9531. This is the original stereo pressing with the black label. The record looks to be in M- condition and the cover is probably M- as well. The current price is about $110 and there are two days to go. Maybe this is a week of stereo pressings, because there is also this: Blue Mitchell, The Thing To Do, Blue Note 84178. This is an original stereo pressing and it looks to be in M- condition for the record and the cover. The start price is $100 and so far there are no takers. With the Blue Notes, there's something about the monos that make them feel "more original." I find with the later Riversides, such as the Evans LP, I don't have the same preference for the mono pressing.
This one got a pretty high top bid, but did not sell because it didn't meet the seller's reserve price:
Hank Mobley and Lee Morgan, Peckin' Time, Blue Note 1574. This was an original pressing that looked to be in M- condition for the record and VG++ for the cover. The top bid was $910. You can see where the seller expected more: The last six times we've recorded this record into the Jazz Collector Price Guide it sold for more than $1,000, with a top price of more than $2,600.