More Blue Note Favorites, Courtesy of Downbeat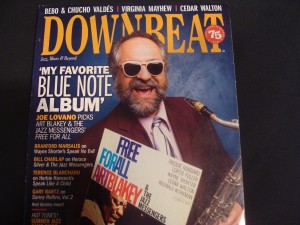 I did that post earlier today and mentioned that Downbeat had done a whole feature asking various artists about their favorite Blue Note records. I was able to dig up my copy of the magazine — I don't have a subscription anymore, but I had purchased this one on the newsstand because of the cover. It was from March of 2009. The cover, as you can see, has Joe Lovano with his favorite Blue Note: Art Blakey and The Jazz Messengers, Free For All, Blue Note 4170. It's quite gratifying to see his picture with a vinyl pressing, and a mono vinyl pressing at that and perhaps even an original mono pressing. Inside, the magazine asked a variety of other jazz artists to name their favorite Blue Notes as well. Here are their replies:
Randy Brecker: Art Blakey, A Night at Birdland Volume 1, Blue Note 5037. They actually show the original 10-inch LP, but I imagine Brecker didn't just single out the first volume, but the whole series.
Teri Lyne Carrington: Wayne Shorter, JuJu, Blue Note 4182
Branford Marsalis: Wayne Shorter, Speak No Evil, Blue Note 4194.
Nicholas Payton: Speak No Evil
David Sanchez: Speak No Evil
Greg Osby: Wayne Shorter, Schizophrenia, Blue Note 4297
Chris Potter: Wayne Shorter, Adam's Apple, Blue Note 4232
Kurt Elling: Wayne Shorter, Night Dreamer, Blue Note 4173
Geri Allen: Herbie Hancock, Maiden Voyage, Blue Note 4195
Sean Jones: Herbie Hancock, Maiden Voyage
Terence Blanchard: Herbie Hancock, Speak Like A Child, Blue Note 4297
Uri Craine: Herbie Hancock, The Prisoner, Blue Note 4321
Matt Wilson: Eric Dolphy, Out To Lunch, Blue Note 4163
Dee Dee Bridgewater: Horace Silver, Song For My Father, Blue Note 4185
Dave Douglas: Horace Silver, The Cape Verdean Blues, Blue Note 4220
Bill Charlap: Horace Silver and the Jazz Messengers, Blue Note 1518
Christian McBride: Joe Henderson, Mode For Joe, Blue Note 4227
Steve Turre: The Eminent Jay Jay Johnson Volume 2, Blue Note 1506
Kenny Washington: Sonny Clark, Cool Struttin', Blue Note 1588
Larry Grenadier: Sonny Rollins. A Night at the Village Vanguard, Blue Note 1581
Gary Bartz: Sonny Rollins, Volume 2, Blue Note 1558
Antonio Sanchez: John Coltrane, Blue Trane, Blue Note 1577
Ben Allison: Andrew Hill, Black Fire, Blue Note 4151
Mulgrew Miller: Freddie Hubbard, Ready For Freddie, Blue Note 4085
Robin Eubanks: McCoy Tyner, The Real McCoy, Blue Note 4264
Conrad Herwig: Larry Young, Unity, Blue Note 4221
Patricia Barber: Sheila Jordan, Portrait of Sheila, Blue Note 9002
Jason Moran: Bobby Hutcherson, Dialogue, Blue Note 4198
There were a couple of other they were weird and I didn't include them. If you're like me, you probably haven't even heard of half the musicians that are quoted here. I will tell you my finalists:
Art Blakey Buhaina's Delight
Art Blakey Blue Note 4003
Freddie Redd, Shades of Redd
Horace Silver, Blowin' The Blues Away
John Coltrane, Blue Trane
Dexter Gordon, Our Man in Paris
Donald Byrd, A New Perspective
At this point, the very strong lean is toward Buhaina's Delight, but I might put a few others on the turntable today, since it looks like it's going to be a nice snow day in New York. But, at least I've narrowed the field to My Seven Favorite Blue Notes. For now, at least.