More Blue Notes For The $1,000 Bin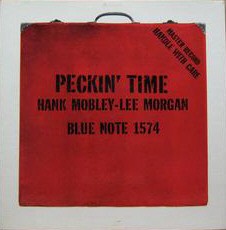 Good that we mentioned those Blue Note tips yesterday: There are a few more original pressings that shall be entering and re-entering the $1,000 bin. Here  they are:
Hank Mobley and Lee Morgan, Peckin' Time, Blue Note 1574. This is an original pressing and the vinyl is in M- condition. The cover is at least VG++. The price is already around $1,600 with many more hours left before it closes today, so we may be seeing an addition to the $2,000 bin.
Also, Tina Brooks, True Blue, Blue Note 4041. This is an original pressing. Again, the vinyl is listed in M- condition and the cover is VG+. This one has more than a day to go before it closes and
the price already at $1,275. We"ve seen True Blue sell for more than $2,000 in the past, according to what we've posted in the Jazz Collector Price Guide, so don't be surprised if this one also enters that rarified air.