High Prices (What Else is New?) & Happy New Year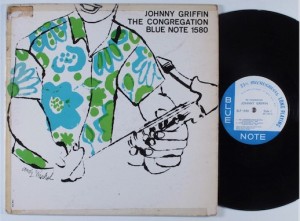 I've been getting a lot of email and there have been a lot of comments about prices going through the roof, particularly on some of the records from the late Dr. Herb Wong. Here are some of the ones that have been sent to me, and a few of my own observations, starting with Johnny Griffin, The Congregation, Blue Note 1580. This was an original West 63rd Street pressing from the Wong collection and it was in just VG condition for the record and VG- for the cover. Despite the condition it sold for $555.99. Then there was this one, which I had mentioned in an earlier post: Johnny Griffin, The Kerry Dancers, Riverside 420. This was an original white label promo copy. The record was in M- condition and the cover was VG++. When we first noticed this record it was in the $300 range. It ended up selling for $915.
Some people were also intrigued by the price for this record: Art Blakey and the Jazz Messengers, Blue Note 4003. This was an original pressing with the West 63rd Street address, deep grooves, etc. It was listed in M- condition for the record and probably VG++ for the cover. It sold for $1,075. I don't think I have as much of an issue with this one as some of you. I realize this is one of the most popular and best selling of the Blue Notes. But, do you think they knew that this record would be a big seller and produced that many more first pressings than a "typical" Blue Note? I would imagine that maybe the original press runs for Horace Silver and Art Blakey may have been higher than a Hank Mobley or Kenny Dorham LP, but how much higher could they have been? As a collector, this is one of the great records of the era, so owning an original pressing would be quite attractive if I didn't own one, even at a high price. Even as an investment — if you watch what's been happening with eBay prices over the years, they just keep going up, up, up.
Anyway — I wanted to take a minute to thank you all for spending time on the Jazz Collector site and to wish you a happy and healthy New Year's. I was just taking a look at the site stats and we are getting close to a total of 2 million total page views since we began tracking such things. It seems pretty amazing to me that this blog I started just for my own enjoyment has turned into something that so many people have come to value and appreciate. Hopefully we can expand our community and continue to spread the love of jazz (and jazz records) in 2016 and the years ahead. Happy New Year!