Jun 3, 2012 $1000 Records, Blue Note, Prestige, Price Guide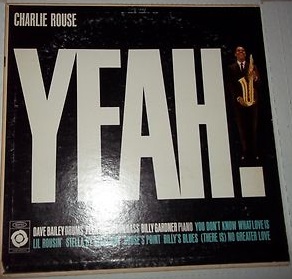 Now that I have that Bird article out of my system, it's time to get back to the task at hand, watching rare jazz vinyl on eBay. Here are some of the items we've been watching:
Phil Woods, Woodlore, Prestige 7018. As you may recall, this one was sitting at $200 with no bids and I was considering taking the plunge myself. Glad I didn't. The record wound up selling for $527 — way beyond my comfort level — and, to make it worse, there is now a dispute about the sale, as you can see on the Jazz Collector site under the earlier post. From the same seller was: Charlie Rouse, Yeah!, Epic 16012. If you look at the listing, you'll have a hard time figuring out the record's condition. It says both ex+ and ex- and it talks about light scratches that will sound on both sides. Hmm. Someone paid $538 for this record. We'll see if there's a dispute about this one as well.
Wow — didn't expect this record to reach the $1,000 bin: Hank Mobley, Workout, Blue Note 4080. This was an original New York USA pressing, with the RVG and ear in the deadwax. It was in beautiful M- condition for the record and cover and sold for $1,009.99.
This one also entered the $1,000 bin, but not all that suprisingly:
Johnny Griffin, The Congregation, Blue Note 1580. This was an original pressing that was listed in VG+ condition for both the record and the cover. It also, of course, has the cover designed by Andy Warhol. This one sold for $1,025. While we're on the subject: Introducing Johnny Griffin, Blue Note 1533. This one was in VG++ condition for the record and VG for the cover. It sold for $909, quite a large number, considering the condition of the cover. But, who could resist an original Lexington Avenue Blue Note? Not me. I actually have two copies of this record.
Tags: Andy Warhol, Andy Warhol Jazz Cover, Charlie Rouse, Epic Records, Hank Mobley, Jazz Collector Price Guide, Johnny Griffin, Phil Woods