Not-So-Cool Struttin'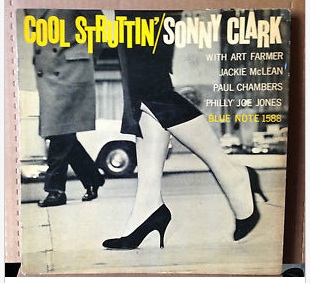 I happened to be perusing old DownBeats yesterday when I casually opened up the issue of Oct. 30, 1958. The "jazz record reviews" listed on the cover were for Harry Belafonte, Terry Gibbs, Benny Goodman, Earl Hines, Shorty Rogers and Bob Scobey. Nothing too interesting, and I almost passed up on reading the reviews. So I was a bit surprised to see that this issue contained reviews of two of the rarest and most highly treasured records in the entire Jazz Collector pantheon: Sonny Clark, Cool Struttin', Blue Note 1588 and Hank Mobley, Blue Note 1568.
Let's start with Cool Struttin'. The reviewer, Don Gold, gave it two and a half stars out of a possible five stars. To put it in perspective, Cool Struttin' had a lower rating than these records, also reviewed in this issue: Steve Allen All Stars Featuring Terry Gibbs; Danny Alvin and His Kings of Dixieland Play Basin Street: Belafonte Sings the Blues; Paul Horn Plenty of Horn, and Moe Koffman, The "Shepherd" Swings Again. This is what the reviewer had to say about Cool Struttin':
"Cool Struttin' — Blue Note 1588: Cool Struttin'; Blue Minor; Sippin at Bells; Deep Night
"Personnel: Clark, Piano; Art Farmer, trumpet; Jackie McLean, Alto; Paul Chambers, bass; Philly Joe Jones, drums.
"The relentless production of jazz LPs creates many record sessions which could easily pass for rehearsals. This is one such session. I won't get involved in attempting to guess how much rehearsal time or how many takes this session consumed. It does seem to me, however, that more time and more discipline were needed.
"The results are not comparable to the potential ability of those present. Clark plays inconsistently, not as well as he can play. He alternates between moments of enlightened lyricism and strings of devices. Farmer, a far more astute trumpet player than he indicates here, seems more concerned with repetition than variations. McLean, passionately striving for individuality, remains an alto man in search of an identity. Chambers is an able supporter throughout. Jones, rather inhibited or fatigued here, plays with tasteful authority without intruding.
"Clark's contributions, Stuttin' (a blues) and Minor, are excuses for blowing, with little inherent authoritative value. On Night, the initial unison theme is expediently dispensed with for a string of solos. The best track is Bells, a blues from Bird's book;  it contains Clark's best solo work, some furious McLean, adequate Farmer, and a brief, pointed arco passage from Chambers."
There it is. What do you think? Do you think the reviewer would have ever believed that this two-and-a-half star record would be selling for $3,000 or $4,000 56 years later? Do you think the pan was justified at any level? I'm going to have to re-listen myself in this context. Also, do you think negative reviews influenced Blue Note's decision-making about when/whether to print up additional copies of records? Certainly a negative review would seem to lead to fewer sales of the record, right? Do you think "fatiqued" in reference to Philly Joe was a code word for drugged?
The Mobley record fared better, with three and a half stars. Tune in tomorrow for that review.