Not So Quiet Kenny, And More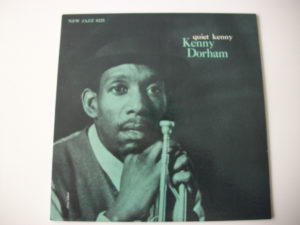 One of our readers sent me the following link: Kenny Dorham, Quiet Kenny, New Jazz 8225. This was an original purple label deep groove pressing. The record and cover were listed in M- condition and the seller used the word "pristine" in his description. The final price was $3,617. According to Popsike, that is a new high water mark for Quiet Kenny. The reader added this note: "Of course, this LP is superb music-wise and very rare, so in today's market maybe the price is justified?" My answer, I guess, is yes, it is justified in today's market. And, I have to say, every time I think the market has peaked, I am always proven wrong. So, who's not to say that someday down the road, we'll be talking about this purchase as a bargain?
This one also fetched quite a price:
Kenny Dorham, Afro-Cuban, Blue Note 1535. This was an original Lexington Avenue pressing that was probably in VG++ condition for the record and VG++ or VG+ for the cover, depending how you feel about some wear on the bottom of the back cover. The final price was $2,272.74.
I also had my eye on this one: Lou Donaldson, New Faces, New Sounds, Blue Note 5021. This was an original 10-inch pressing listed in M- condition for the record and VG++ for the cover. The final price was $316, which was quite a bit less than I expected. If I had seen it in a store at that price would I have purchased it? I certainly would have been tempted, particularly since this is a record I once owned and sold so it is a proverbial gap in my collection.
Another reader sent me a link to the web site of an artist who makes paintings/collages out of record covers. I normally try to avoid overt promotions and I'm not promoting this in any way, but I thought the stuff was pretty good. You can check it out here and let us know what you think.