Nothin' But Heartache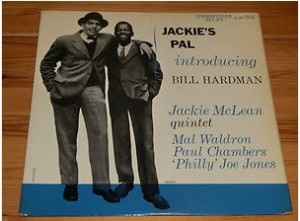 Here's some jazz vinyl that we're watching on eBay:
Jackie McLean, Jackie's Pal, Prestige 7068. This is an original New York yellow label listed in VG++ condition for both the record and the cover. It looks quite nice and would fill in a gaping hole in my collection, considering that more than 20 years ago I sold my M- copy of this record in a moment of temporary insanity. The starting price on this is $400 and there is already one bid and I can certainly see this approaching the $1,000 bin, which means this will not be the copy that fills the gap in my collection.
Here's another heartbreaker for me, although the condition of this copy is not quite so attractive: Sonny Red, Out of the Blue, Blue Note 4032. This looks to be
an original deep groove pressing in VG- condition for the record and Ex for the cover. It's interesting that the seller calls it a "very nice" copy, even though it is VG-.  The start price for this is in the $300 range and so far there are no takers. This is a heartbreaker for me because I also owned this record once, in beautiful VG++ condition, but I traded it away for a record whose name escapes me but whose relative value, musically and monetarily, was not even close to Out of the Blue.