Oddities and Ends, So to Speak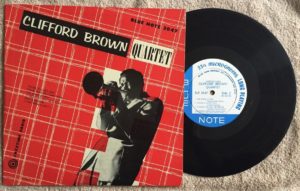 Wait a second. Did you see what happened with this record I mentioned the other day: Clifford Brown Quartet, Blue Note 5047? This was an original 10-inch Lexington Avenue pressing. Original Blue Note, but, as noted by Rudolf, a reissue of the French Vogue material. Anyway, this one was in VG++ condition for the record and the cover and we were watching the auction with about a day left and there were still no bidders at a start price of about $500. I wasn't sure if the record would sell at all. It did, for the whopping price of $1,535. There were two bidders and three bids and they all came in the last few seconds as snipes, I would presume. Talk about a bidding war. Wow!
I had thought about bidding on this when the price was relatively low, but I never would have won it anyway:
Bebop Jazz With All the Stars of the New Movement, Dial D-1. This was a 3-record 78-album, featuring Charlie Parker, Sonny Berman and others. The records and covers were graded at VG. I love these early, clearly authentic, original records from the late 1940s and early 1950s, but at $378 this auction went way beyond what I would typically pay for something like this.
And then there was this: Dexter Gordon, Getting' Around, Blue Note 4204. This was a sealed copy. The cover was mono "High Fidelity" and it had all the trappings of an original pressing. There was no Liberty mention on the cover, for example. But how would a bidder know? The cost to find out was $229.51, which was the final auction price for this record. Existential question of the day: Will the buyer ever open it to find out or listen to it, or will this record remain pristine and unopened until the end of time, which, given the state of things in the U.S. these days, may be here sooner rather than later?