Of Blue Notes and Want Lists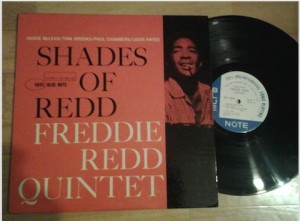 Sorry for the long, unexpected delay between my posts, and thanks to Clifford for jumping in. While I've been missing . . . . One of our readers sent me a link to Freddie Redd, Shades of Redd, Blue Note 4045. This was an original pressing with the West 63rd Street address, deep grooves, Van Gelder, etc. The record was VG+, the cover was VG++, the final price was $565.55 This is a pretty good price for this record and under some circumstances a price I might consider, although, in the end, I tend to wait. My feeling is I do have a Japanese copy of Shades of Redd, so if ever I want to listen to it, I have it. And I do believe that somehow, someday, I will find an original pressing at a price that does not offend my sensibilities. That's just my approach to collecting, and it's served me pretty well through the years although, to be honest, I've been looking for an original copy of Shades of Redd for at least 40 years and haven't found one yet. I do also tremendously appreciate it when our Jazz Collector readers point me to records that they know are on my want list, so don't hesitate to drop me a note.
This one had been on my want list for an equal amount of time as Shades of Redd until The Lovely Mrs. JC purchased a copy for my birthday three years ago from the Jazz Record Center. I don't know how much she paid, and I don't want to know, but I am pretty sure it was a bit less than this copy that sold last yesterday: Thad Jones, Detroit-New York Junction, Blue Note 1513. This was an original Lexington Avenue pressing listed in Ex condition for the record and probably VG+ for the cover with some tape repair. It sold for $1,111.
Well, we seem to be on a Blue Note morning, so let's finish today's post with this: Jackie McLean, Swing, Swang, Swingin', Blue Note 4024. This was an original West 63rd Street pressing listed in M- condition for both the record and the cover. This is also kind of on my want list, since it is one of the few records still in my collection in VG condition for the record and the cover. However, this one sold for $1,213, which is the highest price we've seen for Swing, Swang, Swingin'. I'm sure the buyer and seller are both quite happy. This is an awesome record, a little different than what Jackie was doing at the time because it was all standards except for one original composition.