Of Blue Notes, Later Pressings and Big Bucks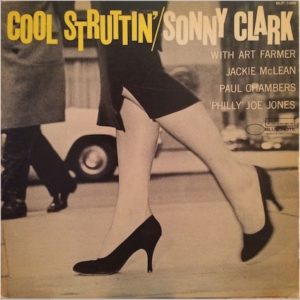 One of our readers, with a sense of wonder, sent me this link: Sonny Clark, Cool Struttin', Blue Note 1588. The record was listed in M- condition. The cover was maybe VG+ at best, depending upon how partial you are to having the word "Super" written in dark red marker across the back of your records. The final price was $422, which at first glance one might attribute to the condition of the cover. Except for one thing: This was a Liberty pressing, not just the label, the cover, too. So now we have third, fourth or whatever generation Liberty Blue Notes selling for more than $400. Oh, the humanity! If I had known, I would have saved them all, and I had a lot of them, including Cool Struttin'. I was happy, at the time, to get $20 or $30 apiece. What is going on?
Then there is this one: Hank Mobley, Blue Note 1568. There is a statement in the listing that this is a "Classic Records 200 Gram Pressing." But that note is buried below a statement that says "All Records are Original Unless Otherwise Stated." Now, the seller does urge potential bidders to "Read Carefully," but still, when you look at the pictures there's little or nothing to distinguish between a beautiful mint original and this type of reissue. I don't know the seller, and I don't know the buyer, but I imagine there will be some conflict when the buyer gets the record and realizes it is just a reissue. Why? Because the final price was $737.Now, there were 13 bidders and 19 bids, so who knows what happened, but it doesn't seem to me that the going market rate for a reissue from the 21st Century, is now in the $700-plus range. Does it seem that way to you? I do know that when I sold records regularly on eBay, English was not the primary language for many of my customers and mistakes like this could happen if you weren't careful, or, alternatively, if you were exceedingly careful and a bit sly as well. The seller does have a policy of returning all records with no questions asked, so I'm sure there will be no issue one way or the other. Perhaps the buyer knows exactly what he is buying and is pleased to have a mint copy of this record at any price. Perhaps.