Of Yellow and Other Labels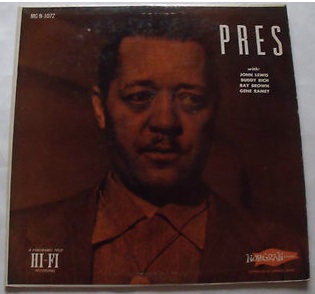 Another day, another batch of jazz records on eBay. Here are a few we're watching: Lester Young, Pres, Norgran 1072. This is an original yellow label pressing. The record is VG+, the cover is VG and the picture accompanying the picture is dark and now so clear. Surprising to see that the bidding has already reached more than $130 and there have been eight bids. Maybe there's life in those old Norgrans yet.
This one looks nice: Tina Brooks, True Blue, Note Note 4041. This looks to be an original pressing, with the original cover. The seller describes them in EX+ condition, which strikes me as just a step below M-. The price for this is in the $1,400 range and the bidding closes later today.
I'm assuming this is an original pressing, but perhaps not a first pressing? It's an odd one: Sonny Clark, Sonny's Crib, Blue Note 1576. It has the deep grooves and all the markings of an original pressing, but two different labels, both with the West 63rd address. One side has the New York 23 label, the other doesn't. So what does that make this record? It is listed in M- condition for the record and VG++ or better for the cover. Bidding is in the $180 range and it has yet to meet the seller's reserve. Normally you'd expect this record in this condition to sell for close to $2,000. But the labels will definitely impact the price, right?