Off-Beat Labels, Deep Grooves and More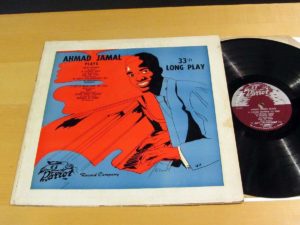 I tend to be fairly knowledgeable when it comes to jazz records, so it is always a pleasant surprise when I find something brand new to me. Case in point: Ahmad Jamal Plays, Parrot Records 55-245. It was surprising to see any Ahmad Jamal record fetching a collectible price, let alone one I had never seen from a label I had never heard of. A quick Google search tells us that Parrot Records was in existence only from 1953 to 1956 and mostly issued 78s and 45s. In fact, according to Wikipedia, this Jamal record was the only 12-inch LP issued by the label. This copy is listed in VG++ or M- condition for the record and G+ or VG- for the cover. There is one bid at $300 and the auction closes in a few hours.
Mode is another short-lived label you don't see all that often. Here's one: Warne Marsh, Music for Prancing, Mode 125. This is an original pressing listed in M- condition for the record and VG+ for the cover. The record has shrink wrap, but I doubt it was originally issued that way back in 1957 or 1958. Perhaps Rudolf would have a better idea. Anyway, the start price for this is $250 and so far there are no bids.
Here's one from a label that is perhaps somewhat more familiar to our readers: Art Taylor, AT's Delight, Blue Note 4047. This is a West 63rd Street pressing that seems to have the RVG stamp in the deadwax, but no ear and no deep grooves. It's funny, my copy (autographed by Arthur Taylor in 1980) is of the same vintage. Would you say, early in the Liberty years. I listened to it a couple of weeks ago and the sound was fine. Anyway, this copy is listed in Ex condition for the record and VG+ for the cover. The bidding is already in the $260 range. I wonder how much my autographed pristine copy would sell for. Not that I'm looking to sell it.
Speaking of deep grooves, a reader sent the following note/question:
"I have followed your site for several years, and I am continually impressed by the content provided by you and fellow collectors. I have a question for you, that may also become a suitable topic for a blog post.  My question is, when did Blue Note, (and Plastylite and Liberty), Prestige, Impulse, Riverside, etc. convert mono pressings from 1mil groove width to .7mil groove width? I ask because I have participated in a discussion on another blog site regarding this issue and which stylus to use for optimal mono playback. Thank you."
I told the questioner that I didn't know the answer but it was highly likely someone here would know the answer. Let's see.