On eBay: Mingus, Newk & Unplayed Records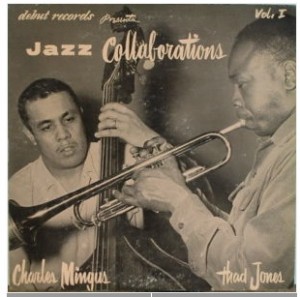 Here's some jazz vinyl we're watching on eBay:
Charles Mingus and Thad Jones, Jazz Collaborations Volume 1, Debut 17. This is an original 10-inch LP and it is in M- condition for both the vinyl and the cover. Quite hard to find this LP in this condition. The seller is Euclid Records, which has been posting quite a collection of rare 10-inch LPs the past couple of weeks. Anyway, this one closes in about 15 hours from this post and is still in the $100 range.
This one has a buy-it-now price of $2,800 and is currently at $1,000 in the bidding but has not yet reached the seller's reserve price:
Sonny Rollins, Saxophone Colossus, Prestige 7079. This is an original deep grove New York pressing and it is listed in M- "almost unplayed" condition for the vinyl and M- condition for the cover. We'll see if this makes the reserve price, or even if someone plunks down the $2,800 buy-it-now price.
The same seller is offering this one, already at $1,500; Cliff Jordan, Blue Note 1565. This is an original pressing, also in beautiful M- condition for the record and the cover. One more from this seller: Jackie McLean, Alto Madness, Prestige 7114. This is an original New York pressing. The record is M- and the cover is VG++ . Like the others, this is from one collection and looks to be unplayed, according to the seller. And what, pray tell, is the point of having all of these great records and not playing them?