On eBay: Mobley, Some 10-Inchers, Hawk & Dex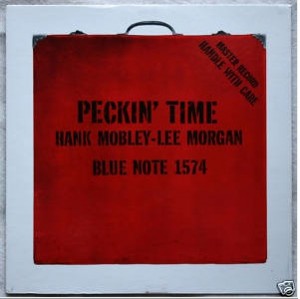 Some nice items on eBay this week. Here's one that's about to enter the $1,000 bin: Hank Mobley, Peckin' Time, Blue Note 1574. This is an original pressing with the West 63rd Street address. The vinyl is listed in M- condition and the cover is a combination of VG++ and M-, which means its pretty nice either way. it is closing soon, there are already 15 bids and the price is already more than $1,000.
Also ending today is some nice 10-inch jazz vinyl from our friends at Euclid Records. Here's one: Dexter Gordon Quintet, Dial 204. This one is listed as M- for the vinyl and VG+ for the cover. The price is only $67. Perhaps we may throw in a bid on this one, since this is a record we don't have and would certainly like to have, even in the face of our Jazz Vinyl Countdown.
Another major seller with some major items this week is the seller jazzrecordrevival. Here are a couple they have up:
Coleman Hawkins, Hawk Flies High, Riverside 233. This is an original white-label pressing that looks to be in M- condition for the vinyl and VG++ for the cover. You don't often see records by Hawkins commanding high collectible prices, but this one is doing quite well. It is at $115 with more than a day to go. From the same seller is this: Dexter Gordon, Our Man in Paris, Blue Note 4146. This is an original pressing. The vinyl looks to be VG+ and the cover VG++. The current price is about $85. If I were pressed to name my favorite Dexter Blue Note, this would be the one. Bud Powell is in great form on this record, and Dexter seems to be especially inspired.