On eBay: Three More Tenors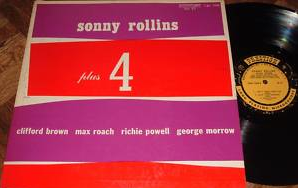 Here are some of the records worth watching now on eBay:
Sonny Rollins Plus Four, Prestige 7038. This is a New York pressing with the first cover. I would assume the cover is a kakubushi cover, but if I were to actually bid on this record — I won't — I would definitely ask first. This is a great record, of course, with Clifford Brown and Max Roach and this copy is in M- condition for the vinyl and VG+ for the cover. This is also listed as a promo copy and I'm not sure if that does anything to enhance the value. Anyway, this one is at about $230 with less than two days to go.
Here's a nice 10-inch Blue Note:
Here Comes Frank Foster, Blue Note 5043. This is an original pressing from a reputable seller. The record and the cover are listed in M- condition. This one is still under $50 with three days left, but I'll be surprised if it sells for less than $500, given the state of the Blue Note market today.
Lester Young and His Tenor Sax Volume 1, Aladdin 801. This is an original flat edge pressing. The vinyl is listed as M- and the cover is VG+. The current price is around $100.