Portait In Jazz Prices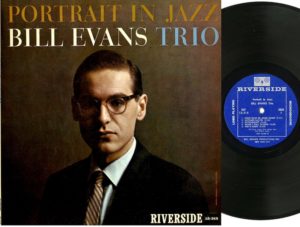 When I'm not posting frequently enough I can always count on our friend CeeDee to gently prod me with a list of auctions he's been tracking. Now I know how infrequently I've been posting, since the latest missive from CeeDee is replete with TEN listings, so let's look at some of the highlights, starting with Bill Evans, Portrait in Jazz, Riverside 315. This record sold for $767, and CeeDee expresses surprise that a later pressing would attract such a high price. I agree, but I can't determine from the listing that this is, in fact, a later pressing. The seller describes it as an original U.S. pressing, with an M- record and Ex cover. It isn't fully clear to me what the pictures entail, since the first picture is described as a stock photo "for illustration purposes only." Anyway, I'm probably being obtuse today so if anyone (CeeDee?) can clear things up, I would greatly appreciate it.
Seems like any Blue Note is now a collectible, including Stanley Turrentine, Rough 'N Tumble, Blue Note 4240. This has the New York USA label and it is a mono pressing, so it is an original. Even so, I've never really considered this record to be a collectible, and I guess CeeDee didn't either. That will have to change, now that this copy, in M- condition for the record and VG++ for the cover, has sold for $232.50.
The Turrentine was from the Jazz Record Center, as was this: Grachan Moncur III, Some Other Stuff, Blue Note 84177. This was an original New York USA Stereo pressing, that looked to be in M- condition for the record and VG++ for the cover. This one sold for $364.99.
One more from the CeeDee files: Kenny Burrell, Prestige 7088. This was an original New York yellow label in just VG+ condition for the record and the cover. I say "just VG+ condition" because the final price seems not to take the condition into consideration, that being $930, which is a lot for this record under any condition.