Potpourri of Vinyl, Record Shows, Old Photos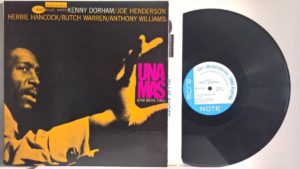 Clearing out my inbox one more time, starting with a note from our friend CeeDee with a link to two eBay auctions. First up is Kenny Dorham, Una Mas, Blue Note 4127. This was an original New York pressing with the ear and the Van Gelder stamp. This was listed in M- condition for the record and the cover. Why did CeeDee send this to us? I would guess the final price, which was $810. That's the highest price we've ever seen for Una Mas, confirmed by a peek over at Popsike. The second link from CeeDee seems to be an aberration: JR Monterose, The Message, Jaro 8004. This was a Fresh Sounds reissue that would typically sell for about $10 or $20. This one sold for $182.50 and it wasn't even in mint condition. The seller doesn't mention that it is a reissue in the listing, but the pictures clearly show that it is. IMHO, the buyer was either careless or clueless or perhaps a combination of the two. In any case, that is quite a tidy sum for a reissue, no?
I got notice in email of the upcoming "43rd Annual Jazz Record Collector's Bash" scheduled for June 23-24 in Edison, NJ. I used to attend this event regularly, but it's probably been more than 20 years since I went. Now that I have my home in The Berkshires, spending a weekend at a Hilton Garden Inn in Edison NJ poring through 78s and LPs versus being on the lake is very hard to justify. Anyway, I'm sure it will be fun and, who knows, maybe it will rain the entire weekend and I'll choose Jersey over The Berkshires. Not likely, but you never know.
Speaking of events, we are getting close to the annual WFMU Record Fair, which will be held in Brooklyn again this year, the weekend of April 28-April 30. I used to be a regular here as well, as a seller, but as some of you may recall, I had either a breakdown or an epiphany (See You In Brooklyn? Not Anymore) and sold all of my duplicates to one of my favorite dealers from Japan. That was two years ago and I have ZERO regrets. I am tempted to bring a bunch of records this year just to pare down my collection but, to be honest, just the thought of loading records into the car, hauling them to Brooklyn, setting up a table and sitting there for three days is about as appealing to me as listening to Donald Trump lie about anything and everything.
Finally, there was an interesting note from a reader whose grandfather was a bass player with Louis Jordan in the 1950s. He sent me a couple of pictures, one of his grandfather playing with Jordan, the second of a young man that he thought might be Charlie Parker. I could see pretty quickly that the man in the second picture was not Bird, so I told him so. There's still an open question of whether this person was anyone of note. It is not someone I recognize, but perhaps someone here may know. In any case, below are the two pictures: