Prestiges, Esquires and Blue Notes, Oh My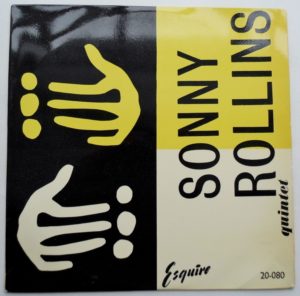 Here's another one of those cool Esquires with a cool cover: Sonny Rollins Quintet, Esquire 20-080. This is the original U.K. version of the Prestige record Moving Out (Prestige 7058). This one is in M- condition for both the record and the cover. There are two days left on the auction and the bidding is already close to $700. What I said in my previous post about getting a good deal on these Esquires? I only wrote it a week ago. Have times changed that quickly, or does it have to do with immaculate condition of this record? Or, perhaps, a little of both?
Meanwhile, it seems as if the bidding has barely begun on this original original Prestige: Jackie McLean, Jackie's Pal, Prestige 7068. This looks like a beauty, graded M- for the record and VG++ for the cover. There seems to be shrink wrap, which would not have been the packaging medium when it was first introduced, but that wouldn't scare me off at all. With more than three days left, the bidding is at just $45. I would expect it to increase markedly as we get close to the end of the auction.
By contrast, this one from the same seller is getting quite a bit more action: Jackie McLean and John Jenkins, Alto Madness, Prestige 7114. This one is listed in M- condition for the record and the cover, and it also seems to have a shrink wrap, although of the looser variety if the pictures are accurate. It also has a promo stamp. The bidding on this one is already over $300, a huge bargain at that price, but, of course, that will not be close to the final price, will it?
With all these Prestiges for the past two posts, where, you may ask, are the Blue Notes? Well, here's Tina Brooks, True Blue, Blue Note 4041. This was an original pressing listed in VG++ condition for the record and probably a notch below that for the cover. There were 10 bidders, 25 bids and the final price was $1,960. Is it possible to call at record that sells for nearly $2,000 a bargain? Perhaps in this instance. I would imagine the buyer is quite pleased.
This Blue Note is closing later today and there's a lot of bidding action taking place: The Amazing Bud Powell Volume 2, Blue Note 5041. This is an original 10-inch pressing with the Lexington Avenue address. I believe I am on record, pun intended, as stating that this is one of my favorite Blue Note covers. This copy is in VG+ condition for both the record and the cover. The price is at about $280 with just a couple of hours left as I type this.