Propheting and Profiting From Jazz Vinyl and Memorabilia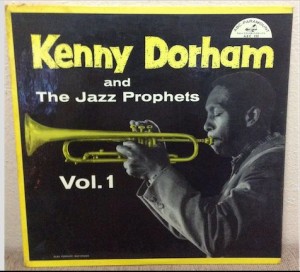 Had my eye on this one: Kenny Dorham and the Jazz Prophets, ABC Paramount 122. This was an original deep groove pressing listed in Ex condition for the record and VG+ for the cover. It sold for $343. I'd recently had an email exchange with a reader who said he's been watching this record and, in a period of just a few weeks, he'd seen the price range from $28 to $1,000. I saw I thought of it as as $400-$500 record, but more in pristine condition. So, from my perspective, this seems to be around the market value. At least it was the market value for this particular copy. I once had an opportunity to buy a beautiful copy of this record at the Jazz Record Center in New York for $100. I wasn't particularly flush at the time, so I passed. Then I went home and changed my mind. Came back a few days later and the record was gone. I asked Fred about it. He said he had made a mistake in pricing it at just $100 and I should have jumped at the opportunity. That was probably 25 years ago. I finally got a copy of this record in the Baltimore collection almost exactly two years ago. Have yet to listen to it. Perhaps I will correct that oversight later this evening.
Here's some stuff from my email inbox:
This one concerns an auction of big band and jazz memorabilia coming up on January 5. The press release states that the collection consists of show programs, handbills, posters, nightclub souvenirs, autographs and a wide range of other ephemera. Probably not of interest to me, but I know some of our readers here may have an interest. Here's a link to the website for anyone that may or may not be interested.
Mike sent this link in with a "WOW" because he thought the price was high, but I'm not so sure: Donald Byrd, A New Perspective, Blue Note 84124. This looked to be an original stereo pressing with the New York USA address, ears, Van Gelder. It was listed in M- condition for the record and Ex for the cover. It sold for $195.30. Mike thought this was a $50 record, but it's an original Blue Note. I'd pay a couple hundred for it if I didn't own a copy. Perhaps. Anyway, I'm typing this and I have headphones on just listening to random music off the computer and Cristo Redentor just came on. Pretty freaky, I'd say.