Rare Jazz Vinyl, But Not For Me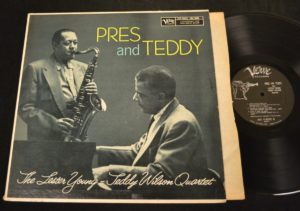 Back in business with a few items we've been watching on eBay. We haven't been buying records for a white but we decided to try to win a couple of items recently, using our sniping software. Here's what happened, starting with: Lester Young and Teddy Wilson, Pres and Teddy, Verve 8205. This was an original pressing with the trumpeter logo that was in M- condition for the record and VG++ for the cover. I was perusing eBay and noticed this with a start price of $99 and no bidders, quite close to the end of the auction. I do own a copy of this record, but it is a bit of a mess, VG- cover and VG record. I have had a clean copy of this record in the past and, quite honestly, I don't recall what happened to it. I can't imagine I sold it or traded it, as it is one of my favorite Pres records. In any case, the idea of upgrading my copy was quite compelling, and it seemed as if there might not be any action on this record so I tried to sneak in a bid in the range of about $11.50. The final price was $113.50, so someone else had the same idea, but decided to go with a higher bid. How how, we'll never know, but I will keep on the lookout for a clean copy of this record and would have no problem paying in the low hundreds for one.
I tried a similar tactic with this record, also to no avail:
Ernie Henry, Last Chorus, Riverside 266. This was an original pressing in VG++ condition for the record and VG+ for the cover. I also own a copy of this record, but I am not enamored with the condition of the vinyl or the cover. This was sitting below the $100 range with no bidders and I though I might be able to steal this for a bargain price as well, with, of course, the term "bargain price" clearly a subjective   concept, particularly as it comes to rare jazz vinyl on eBay in today's marketplace. I put in a snipe for about $120 on this, but it sold for $135.50, so I was not really a contender. Again, it will stay on the wish list.
I'm not sure if there's anything on my current watch list I'm ready to try for, but this one is always tempting, since I STILL don't own an original pressing: Lou Donaldson, Quartet, Quintet, Sextet, Blue Note 1537. This is an original Lexington Avenue pressing listed in VG+ condition for the record and Ex for the cover. The start price is about $500 and I would almost certainly pay that amount for this copy. But that almost certainly will not be enough to acquire it. My guess is that this one gets close to the $1,000 bin, if not edging into it. It was just listed and there are still six days left.