Real Original Originals (In Nice Shape, Too)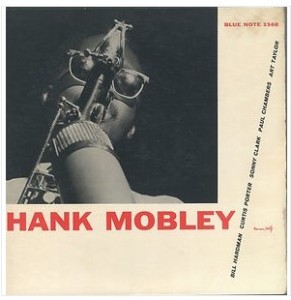 Here's one that will sell for quite a lot of money this week: Hank Mobley, Blue Note 1568. This is an original original pressing and it is being offered by the Jazz Record Center, which describes it as a "the original hybrid deep-groove RVG-stamped 'P' pressing." This is a lot to take in, but the key word is original. The record looks to be in M- condition and the cover probably around VG+. There are close to three days left in the auction and the bidding is in the range of $1,125. It will continue to rise. We've seen this record sell for as much as $5,600 in the Jazz Collector Price Guide, the highest price we've ever recorded for any single record.
What are some of the other items we're watching from the Jazz Record Center auction. Glad you asked:
J.C. Heard, This is Me, Argo 633. This looks to be quite a find and quite rare. It has the original SPLIT-PAK design, where the record enters from the cover. And it even has the original Argo postcard and EP sampler included. The record and cover are in M- condition. I, for one, have never seen a copy of this record before. The start price is $250 and so far there are no bidders.
Of similar ilk is Johnny Griffin Quartet, Argo 624.  This too has the SPLIT-PAK design cover and an original Argo postcard. The record is in M- condition and the cover is close to that, perhaps M- or VG++.  This also has a start price of $250 and no bidders as of yet.
Presenting Ernie Henry, Riverside 222. This is an original white label pressing and it looks to be in beautiful condition, M- for the record, probably M- for the cover as well. Again, the start price is $250 and, again, there are no bidders. There will be, I'm quite sure. Perhaps even me if things don't get started.