Recent Jazz Vinyl Sales, Random Comments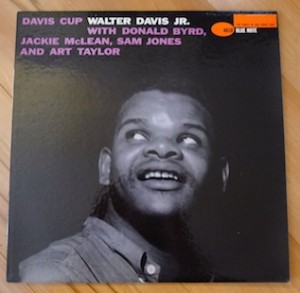 Sorry for the entirely unexpected break in the action. Back to business: Walter Davis Jr. , Davis Cup, Blue Note 4018. This was an original West 63rd Street pressing. The record was in M- condition and the cover was listed as Ex. The final price was $1,104. Welcome to the $1,000 bin, which is getting quite crowded these days. I remember seeing Walter Davis Jr. many times in the early 1970s. When Sonny Rollins made one of his "comebacks" from retirement, Davis was in his regular band, along with Al Foster and Bob Crenshaw. He often also had a Japanese guitarist by the name of Yoshiaki Masuo. Anyway, Davis was always a terrific soloist and accompanist and had a very positive vibe. I don't have an original pressing of this record, just the United Artists reissue, but it is definitely one I'd love to own someday. Just not for $1,100.
Sometimes here at Jazz Collector we get interesting and random comments on older articles. Or comments get buried under newer comments. There's a tab on the right size of the home page (and subsequent pages) for "Recent Comments." I'm not sure if many of you ever click it, but it's a good idea. For example, I'm not sure how many of you
may have seen the comment comment from Geoffrey Wheeler on the Billie Holiday/Benny Goodman 78 mentioned earlier:
Regarding the Goodman-Holiday blue wax-blue label recording of "Your Mother's Son-in-law" (Col. 2856-D), this is one of a number of recordings that (E) Columbia asked John Hammond to record for them through (Am.) Columbia. American Columbia was on the verge of bankruptcy and had little money to pay for recording sessions, especially jazz-oriented recordings which had a very small market. Under the arrangement, Hammond would oversee the recording sessions and American Columbia would be permitted to release their own issues, paying only mechanical, pressing, and business costs. The "crack" noted in the listing write-up is likely a "lam," which is a crack that does not break the surface of the record. It's called a "lam" because the pressing is laminated. This recording was issued in England on (E) Columbia (CoE CB786). I regard this as the "first" true issue since (E) Columbia paid for the session and American Columbia did not. I have a copy of the letter setting forth terms of the agreement. Col. 2856-D usually commands a high price, whereas CoE CB786 does not, perhaps because many American collectors mistakenly think the American pressing is the first issue. I have the (E) Columbia issue (but not the American issue), for which I paid about 1/15th of the auction price of this American Columbia. I've been collecting 78s since 1942 and LPs since 1949.
Thanks to Geoffrey for this information. One day I will go through  the entire site and catalogue all of this stuff and we will have a great history of jazz recordings right here all in one place.
Here's one more you may have missed and may be of particular interest to readers in Germany:
I have inherited A collection of albums from my uncle Peter it was the famous bass player out of Germany PETER TRUNK . He played alongside with Gillespie, along with playing on this album Lucky Thompson Lord, Lord, Am I Ever Gonna Know? (1961) and Cees See too, just to name a few. He's albums are all German bought . Now I have an original first pressing BlueNote Miles Davis Vol.2 1502,
Matrix BN-LP-1502-A. BN-LP-1502-B. And With all the correct credentials of a first pressing, like the cursive big P ,which they call the EAR , a hand Etched RVG, not stamped and 9M also hand etched. I also have Miles Davis 'kind of blue', an original BN-
CS 8163 . Matrix XSM47326-1A, XSM47327-1AE. Now they are in there original sleeves and the covers are in fairly good condition . The records themselves play wonderful. now would anybody know who I would talk to to add to their personal collection and not a retail collector of some sort. For these were owned by my uncle Peter and I want them to be appreciated just like he did when he listen to them. Like I said they are from Germany with a Musikhaus Hummel red/gold sticker on the cover and on the record label which was placed over the category number on the first sides of each of these albums. Any buddy to give me any information would be helpful. And like I said this is just a few. I have some my uncle Peter's original works to which if you look online, they go from anywhere $500 to 2500 . I have some artists signatures with a little quotes saying how thankful they work for Peter assisting them with his great mind for music. Any help would be greatly appreciated at this time .