Records That Are Not Quite Records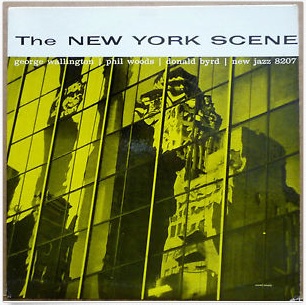 Let's catch up on a few more jazz records from our watch list, starting with: George Wallington, New York Scene, New Jazz 8207. This was an original pressing with the deep grooves and the purple label. The record and cover both looked to be in VG++ condition. The price was $698, which we though was the highest we've ever seen for this record until we looked at the Jazz Collector Price Guide and realized that we've seen this one sell for as much as $865. I literally bought a copy of this record for a quarter many years ago, when one of the young workers at Mr. Cheapo in Mineola mistakenly threw it into the bargain bin, for which I have been forever grateful.
That copy of Sonny Clark, Cool Struttin' that we were watching would up selling for $3,507, also not a record, but a pretty hefty price indeed.
I just sold a copy of this record to a dealer, and I would have expected it to get a higher price than it did here:
Bud Powell, Bud!, Blue Note 1571.This was an original pressing in M- condition for the record and VG+ for the cover. It sold for $203.50. For the record, I sold my copy for $300 and then the dealer was going to have to resell it in Japan for a higher price to make any money on it.
Here's an interesting one: Lee Morgan, The Cooker, Blue Note 1578. This was a listing without much description, and with a small picture of the label. The seller mentioned the West 63rd address, but didn't say anything about a deep groove or an ear or a Van Gelder. Zooming in on the photo, I got the sense that it was a deep groove and an original pressing. I'm sure some potential buyers were put off, however. It sold for $363.88 in Ex condition for the record and VG+ for the cover.