Ruminations On The First $11,191.63 Jazz Record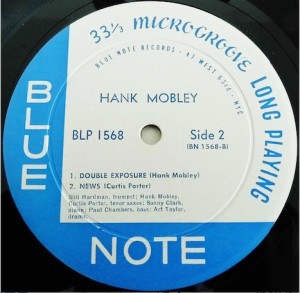 I can't quite leave that $11,191.63 Hank Mobley Blue Note quite yet. It's still pretty mind boggling. I spent some time looking at the seller's site and reading their blog. They do a very good job of presenting information and marketing themselves as more than just dealers but as preservationists and aficionados. They also had a blog entry explaining the provenance of the NY 23 and why collectors shouldn't consider one label as more original than the other. Of course, collectors are not necessarily a fully sane bunch, and I include myself in that category, so no offense intended. So, kudos to the sellers for doing a great packaging job, including the pictures, descriptions and overall presentation I then looked at the bidding on the record and the big surprise was that the two bidders who pushed the record into the stratosphere
had so little feedback. That would give me cause for concern if I were the seller, and also as sort of the archivist for jazz vinyl prices, which is definitely one of the things we do here at Jazz Collector. So I will probably follow up at some point with the seller to see if the transaction actually goes through before I place this in the official Jazz Collector Price Guide. Also noteworthy is that the winning bidder used some kind of automatic bidding software, so who knows how much higher his top bid actually was.
There was a time, much earlier in the eBay era, when you could actually look at the emails of bidders. You weren't supposed to contact them directly, but I remember building my first mailing list for Jazz Collector, back when it was an email newsletter, through access to email addresses on eBay. It would be interesting to reach out to the buyer to find out more about him. The fact that he only has feedback for 16 items makes me doubt his legitimacy. And the second high bidder only has six feedbacks, so he would be even more suspect. The third high bidder was definitely legitimate, with 1,268 feedbacks. His top bid was also more legitimate, at $3,333 pounds, which is about $5,094 U.S. dollars, which is about what you'd expect for this LP. Actually, this would even be on the high side, given the lack of the NY 23 on the label.
I'm hoping the seller of this record is familiar with Jazz Collector and reaches out with an update on the actual sale. Otherwise, I'll reach out to them. My bet is that the record ends up in the hands of Bidder #3 at $5,094. What do you all think?