Searching for Bargains and Deep Grooves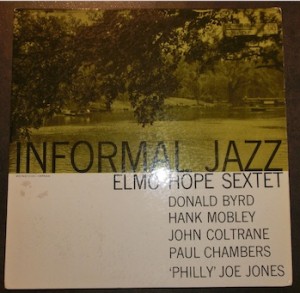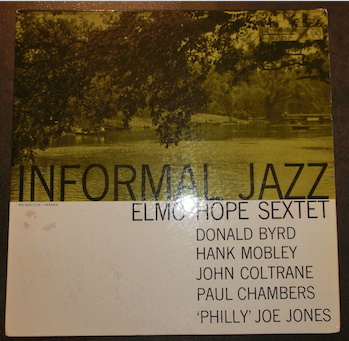 Here are a few more rare jazz records worth watching on eBay, starting with Elmo Hope, Informal Jazz, Prestige 7043. This looks to be an original New York yellow label pressing listed in M- condition for the record and VG++ for the cover. This one just came onto eBay and has a start price of $380. It also has a "but-it-now" price of $700. I have a feeling, once people start reading this article, someone just might swoop in and buy it. The $700 price tag actually seems pretty reasonable for this very rare LP. I, fortunately, have my own copy now, courtesy of the family of Bruce W. West in Baltimore. Also from Prestige: Kenny Dorham, Quiet Kenny, New Jazz 8225. This is an original deep-groove purple label pressing listed in VG++ condition for both the record and the cover. There are five days left on the auction and the bidding is in the $565 range, on its way up into somewhere in the $1,500 to $3,000 range for its final price.
How about a couple of Hank Mobleys:
Hank Mobley, Roll Call, Blue Note 4058. This is a West 63rd Street pressing listed in VG+ condition for the record and the cover. I read the listing over three times looking for the words "deep" and "groove" but I never saw them. And I looked at closeups of the pictures and I don't think I saw them there either. It's funny because the record has other indications of an original pressing, including what looks to be the original outer sleeve. The price is in the $130 range with three days left.
Hank Mobley, Soul Station, Blue Note 4031. This looks to be an original pressing and both the record and the cover look to be in VG+ condition. The auction opens at about $400 but with four days to go there are no bidders. I imagine there will be at some point.