Shock and Awe!!!!!!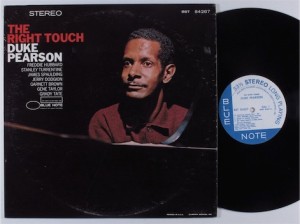 Readers continue to express shock and awe at the prices on the funkyousounds auction of the Dr. Herb Wong collection. One missive comes in from Dylan concerning this record: Duke Pearson, The Right Touch, Blue Note 84267. This is a Liberty pressing. An original Liberty, but a Liberty nonetheless. And it is a stereo pressing. This one had a promo stamp. The record was M- and the cover was VG++. The price was $560. And then there was Gerry Mulligan, Night Lights, Phillips 600-108. This is the one we mentioned the other day. Stereo pressing, promo stamp, VG++ condition. We were surprised when the bidding had reached $60. The final price was $434. If anyone has a viable explanation for this one, I'd love to hear it: Duke Ellington and Johnny Hodges, Blues Summit Verve 8822. This is a reissue — the type that is very hard to sell on eBay for even $10 or $15. This was a sealed copy and it sold for $349.67. Or this one: Miles Davis, Milestones, Columbia 40837. This is just a plain old reissue. I remember seeing these all the time in $2 or $5 bins. This one sold for $278. I'm going to do a few more, just because I'm sitting here absolutely stunned as I go through the list:
Ella Fitzgerald, Sunshine of Your Love, Prestige 7685. Sealed, $274.
Illinois Jacquet, Birthday Party, JRC-11434. Sealed, promo, $251.50.
Vince Guaraldi, A Charlie Brown Christmas, Fantasy 5019. Promo, $232.50.
Duke Ellington, Max Roach, Charles Mingus, Money Jungle, Solid State 18022. Reissue, promo, $231.
There are so many more, it's hard to fathom: Sergio Mendes for more than $200; Getz-Gilberto for more than $200; JJ. Johnson, Proof Positive on Impulse for more than $200; Ella Fitzgerald on Pablo (with a cutout clip to boot) for $184.
I could go on all day. Look for yourself. I think we have ventured into a new paradigm. Perhaps the emergence of the celebrity collector. Or a world in which sealed records and shrink wrap, no matter what the record, are a thing. Beats the hell out of me.