Some Jazz Vinyl for Our Files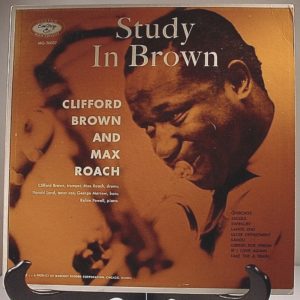 Just looking at some random items from my watch list, starting with Clifford Brown and Max Roach, Study in Brown, Emarcy 36037. This was described as an original pressing, but clearly it isn't, with the black writing on the back cover instead of the blue. Also, the cover was graded at M-, but it's not that either, with both a sticker and writing on the back. So perhaps it was not surprising that the record did not sell at a start price of $300. But it's back again. I just wanted an excuse to run a picture of the cover. And pose a quick question: I keep all of my Brown and Roach records filed under Brown, and I assume those that file by artist do the same. Does anyone file these under Roach? Drummers, anyone?
This one did sell:
Elmo Hope and Frank Foster, Hope Meets Foster, Prestige 7021. This was an original New York yellow label listed in M- condition for the record and Ex for the cover. The final price was about $494, which seems kind of low for this record in this condition, but actually isn't, since the top price on Popsike is only $600. I have a nice copy of this one and I file mine under Foster as opposed to Hope, but I may adjust that next time I reorganize my records, which I seem to do every few months or so, just for the fun of it.
I was watching this record close as I was typing this post because it seemed as if it wasn't going to sell: Sonny Rollins, Blue Note 1542. This was an original Lexington Avenue pressing that looked to be in VG+ condition for the record and probably VG+ for the cover. The start price on this was around $750 and there were no bids until the final second, when one bidder came in and purchased it for the asking price. Seems like a pretty good deal to me. Just for the record, I file this record under Rollins. But most of you probably figured that one out already.