Some Sell, Some Don't, One Gets Quite A Price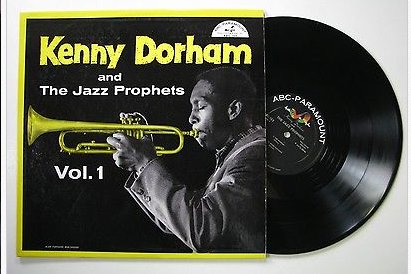 Many ages ago, when I last posted on Jazz Collector, there were many items I was watching on eBay that have subsequently sold. Or not. Here are some of them:
Kenny Dorham and the Jazz Prophets Volume 1, ABC Paramount 122. This was an original pressing listed in VG++ condition for the record and M- for the cover. It sold for $510. One of the things I've always liked about this record is the "Volume 1." Obviously, somebody thought there was going to be a Volume 2, but it never materialized. Wonder if anyone here knows what happened to Volume 2? I searched for this record for years. About 20 years ago I passed up a very nice copy at the Jazz Record Center, which Fred Cohen very generously agreed to sell to me for $100. I have no idea why I didn't buy it, but I didn't. I finally acquired a copy last year in that lovely Baltimore collection. Still haven't listed to it, though. Getting a turntable upgrade in New York this week. Maybe now's the time.
This one had a starting price of about $1,500 and, not surprisingly (to me, at least), did not attract any bidders:
Eric Dolphy, In Europe, Debut 136. This was an original pressing from Denmark, listed in M- condition for the record and Ex+ for the cover, which is probably just a shade below M-.  We have seen this record sell for as much as $1,375 in the Jazz Collector Price Guide, but I think it's rather presumptuous of the seller, to start at such a high price, rather than allow the bidding to set the market. But, that's just me. It's really none of our business how people want to sell their records. Or, in this case, not sell their records.
Stan Getz Quartets, Prestige 7002. This was an original New York yellow label pressing, listed in VG+ condition for both the record and the cover. It sold for #113.50.
Our friend CeeDee, probably wondering where I've been hiding, reach out on this listing: John Coltrane, Blue Train, Blue Note 1577. This one is a curiosity. The seller, a very experienced and knowledgeable seller (and, to my recollection, a regular reader of Jazz Collector), chose to list this as an "original" Blue Note. I guess it depends on how you define original, no? It's not an unoriginal Blue Note, nor is it a first pressing: It has the West 63rd and the New York USA labels. You have to look closely at the pictures to discover that. It was in VG++ condition for the record, perhaps VG++ or M- for the cover. Someone agreed to pay $860. I have to think the winning bidder didn't look carefully enough at the listings and thought he got a bargain Blue Train original for $860. I imagine there will be no small measure of disappoint when the record arrives and gets unpacked and the reality sinks in. Or, perhaps I am wrong, and this is now the going market record for a second, or third, or whatever pressing of this classic jazz LP. CeeDee's accompanying note to me was quite succinct: "A lot of bread for this, with mismatched labels. Time to list your doubles?" If I were to list my doubles, I'd probably be a bit more circumspect in the language I would choose.