Some Surprises in the Bidding?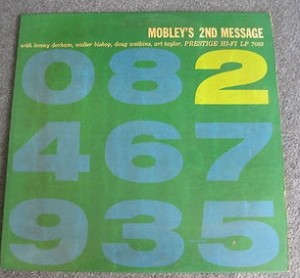 Let's catch up on some of the jazz vinyl auctions we've been watching on eBay:
Hank Mobley, Mobley's 2nd Message, Prestige 7082. This was an original pressing with the deep grooves and the New York address. It had a promo label stamp and perhaps a small cutout hole, which the seller described as a "worm " hole, a term new to us in this context. The record was listed in VG++ condition and the cover was VG+. The final price was $1,075.
A lot of people have commented with appropriate surprise at some of the relatively low prices on the auctions we were watching from the Jazz Record Center, including: Cliff Jordan and John Gilmore, Blowing in From Chicago, Blue Note 1549. This was not listed as a first pressing, but it seemed to clearly be an early pressing, with one side having the original New York 23 label and the other having a West 63rd label. The record and cover both looked to be in M- condition. The price was $373. I'd have paid more if I was paying attention.
On the other hand, this one sold for a higher price that I would have perhaps expected although, to be fair, the prices on these 4100-series Blue Notes have been skyrocketing: Herbie Hancock, Empyrean Isles, Blue Note 4175. This was an original pressing that looked to be in immaculate M- condition for both the record and the cover. It sold for $583.56.