Apr 17, 2012 $1000 Records, Blue Note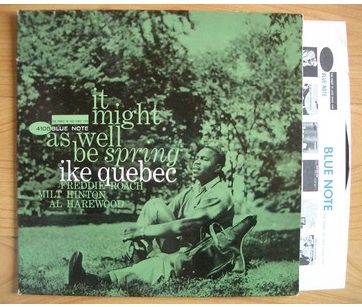 Sorry we haven't posted in a few days. Been busy reorganizing my records. Again. Here are some items we missed on eBay:
So when did Ike Quebec become an artist whose records would approach the $1,000 bin? How about this one: Ike Quebec, It Might As Well Be Spring, Blue Note 4105. This was an original New York USA pressing that was listed in M- condition for both the record and the cover. It sold for, get ready, $887.
This one broke into the $1,000 bin, but not as a surprise: Helen Merrill, Emarcy 36006. This was an original pressing, with Clifford Brown on trumpet and the blue writing on the back label. Despite some mentions of surface noise, the seller listed the record as M- for both the record and the cover. I suppose a record can have a couple of pops or a drop of surface noise and still be M-, right? I mean, few of these records from the '50s are absolutely perfect. Anyway, this one sold for $1,035. Then again, for $1,035 maybe there's shouldn't be any pops or clicks when you listen.
This one had five or six clicks on a feelable scratch and the cover had a cut-out hole, which I kind of hate and rarely have ever seen on original Blue Notes: Hank Mobley Quintet, Blue Note 1550. This one was rated in VG+ or VG++ condition (based on the description, VG+ sounds more accurate) and VG+ for the cover. It sold for $643.80. All things considered, I think that's a pretty hefty price.
Tags: Emarcy Records, Hank Mobley, Helen Merrill, Ike Quebec