Sonny Clark, Dexter and an Over/Under Betting Proposition for Mobley's Blue Note 1568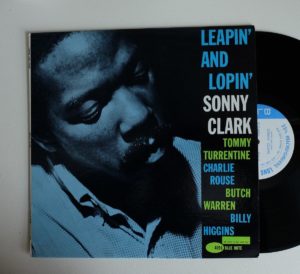 Sorry for the long unexpected hiatus between posts. Been very busy with work and time just slipped away. Glad to see no one was worried about me. 🙂 Anyway, let's look at where we left off with our eBay watch list, starting with: Sonny Clark, Leapin' and Lopin', Blue Note 4091. This was an original New York USA mono pressing. It was listed in M- condition for the record and VG++ for the cover. It sold for $908.76. We don't recall ever seeing this record sell for more, but Popiske has a record of a copy selling for $1,144 in 2014. Wow. I guess it won't be long before copies of this record will eventually be regulars in the $1,000 bin. First the ones in M- condition, then, over time, those in not-so-mint condition, if past patterns continue to hold forth in the future.
Perhaps this next one is also destined for the $1,000 bin. It keeps getting closer:
Dexter Gordon, Go, Blue Note 4112. This was an original mono pressing with the New York USA label. It was listed in M- condition for both the record and the cover. The final price was $760.
While we were undisposed our friends at the Jazz Record Center put up another list of nice records, including: Hank Mobley, Blue Note 1568. This looks to be an original original pressing. It does not have the NY23 marking on Side One but Fred Cohen, the proprietor of Jazz Record Center and renowned Blue Note expert, states in this listing: "As will be seen in a forthcoming auction, it is now apparent that the NY23 label on BLP 1568 is an anomaly and not indicative of an original." I'm sure that won't really effect the desire of collectors to prefer owning the NY23 copy anyway. This copy is in M- condition for the record and at least VG++ for the cover, probably M- for most of us. There are six days to go and there are already five bids, four bidders and a price of $2,750. What's the over/under for this one. I am setting it at $4,300, just because of the lack of the NY23. Otherwise I'd put it at $5,800. Let's keep track. Perhaps we'll give a prize to the reader who comes closest. I say over on my betting proposition: $4,444.