Strange Hank Mobley Peckin' Time Activity?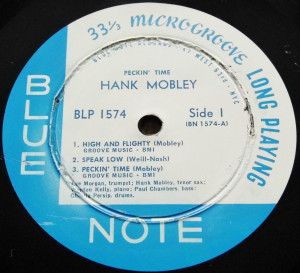 Michel pointed this one out in the comments on the latest Duke Jordan 10″ thread and I'll admit to being similarly confused by it: Hank Mobley Peckin' Time. From the looks of the label, it does seem like the deep groove was somehow hand-carved. I've never seen one look this sloppy, certainly not when you're talking about an imprint of a record-stamping machine, though I guess it's possible. The RVG is hand-etched, where according to Cohen's book it should be stamped. The dead wax also has some other weird scratched-out etchings. The labels themselves are worn but do look 'correct' from my point of view, and the cover looks right as well (though admittedly I've never held an original Peckin' Time to compare). The LP is graded about a VG+ and the cover M-. I can't imagine someone goofing around and making their own deep groove on, say, a Japanese reissue record (which should have a registration mark anyway) and sliding it in an original cover, but stranger things have happened – in fact, the world of psych and garage bootlegs is full of this kind of stuff. This seller, Vinyl House, also got five figures for a BN 1568 not all that long ago, though it was apparently worked out in a 'trade.' There's something fishy going on here, in any event.
For comparison, I've found an example of what an original Peckin' Time LP should look like in the following sale, though keep in mind that it's for a record without a cover and someone is trying to flog it for $3,000+.
Now, this record is clearly an original, though $500 is a lot of money to part with for an LP and cover in VG condition at best: Sonny Clark Cool Struttin'. By now it's been pretty well documented that clean originals of this album can go for some serious change, around ten times what this went for on a good day, so maybe $500 is a steal? I've bought a few avant-garde jazz LPs from this seller, cityvillerecords, and they've all been very conservatively graded so if it were my money I'd at least know that the seller is trustworthy, but a VG record, even a nearly sixty-year-old one, is still a VG.
Records are a strange business to be in.