Temptation: A New Jazz & A Test Pressing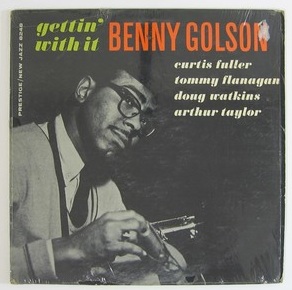 I spent a couple of hours perusing eBay the other night and put a bunch of items on my watch list and even placed a snipe bid on this record: Benny Golson, Gettin' With It, New Jazz 8248. This was an original pressing that was probably in VG++ condition for the record and VG+ for the cover. I bid on the record primarily because I don't have it and I thought it might sell for a reasonable price. It's also a record I used to own and, frankly, I can't remember why I don't own it any more. But I don't. When I placed my snipe the bidding was at $87 with several hours left, and I thought maybe I could get a nice original New Jazz. My snipe was about $160 and I thought I would get the record. I didn't. The top bid was $190.50.
I was watching this one, not because I was interested, but because I wanted to see how high it would go, which was plenty: Grant Green, I Want to Hold Your Hand, Blue Note 4202. This was an original mono New York USA pressing in M- or so condition for the record and VG++ for the cover. It sold for $511.11. Here's the existential question for today: Why?
Our friend CeeDee sent this link to tempt me:
Sonny Rollins Volume 2, Blue Note 1558. This was a an original test pressing. No cover, of course, but the record was in VG++ condition. The cool thing about it is the big Plastylite logo and the hand-written description. Could it be Van Gelder himself? This one sold for $569.86.