The Best of Hank Mobley?????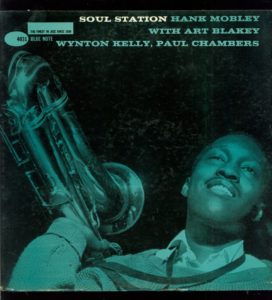 Our friends at the Jazz Record Center have a very nice auction underway now, including: Hank Mobley, Soul Station, Blue Note 4031. This looks to be an original West 63rd Street pressing, probably in M- condition for the record and VG++ for the cover. The bidding is in the $700 range as I type this, and I would expect the final price to be quite a bit higher, much closer to the $2,000 bin. This is a record that I never owned in original condition until i was fortunate enough to get a copy in the Bruce M. West Baltimore collection four years ago (has it really been four years?). Anyway, like a lot of the records in that collection, I put them on the shelves and promised myself I would get around to listening to them one day. And, a few nights ago, I finally kept my promise with Hank Mobley Soul Station. And it was quite a revelation.
I must confess, I am not as into Mobley as many of my readers here at Jazz Collector. I've always liked him, but as a tenor player I never put him on the same level as Coltrane, Rollins, Gordon or Getz, so, when it came time to listen, I would typically put on one of my favorites. I'd listen occasionally to his records as a leader, but more often I'd listen to him as a sideman on Blakey records or Donald Byrd, A New Perspective, or Lee Morgan records.  So, I'm not as familiar with his records as a leader, from a listening standpoint, as I am of some of the other tenor players. I mean, I have really strong opinions and knowledge about all of the Coltrane and Rollins records from their primes, as well as a range of other artists, including Miles, Dexter Gordon, Clifford Brown and a few others. Mobley, not so much.
Well, I was listening to Soul Station the other day thinking, "Man this is a fucking great. "It's really nice to hear Mobley in a quartet setting, and what a quartet it is, one that you would not typically see together: Wynton Kelly, Paul Chambers and Art Blakey. Blakey was not doing a lot of sideman gigs in those days, and Kelly and Chambers are always spectacular. The whole record was a revelation and I started thinking: "Is this Mobley's best record as a leader?" And, of course, being ignorant myself, I have no answer to that question. But, I have no doubt there are several of you out there with very strong opinions, so I will pose the question: "What are your favorite Mobley records as a leader?"