The Blue Note Bargain Bin . . . Not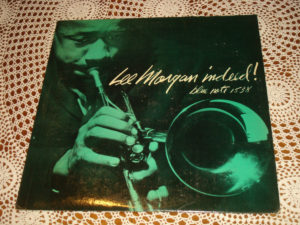 eBay experts tell us what you make of this: Lee Morgan Indeed, Blue Note 1538. This was an original Lexington Avenue pressing listed in M- condition for the record and Ex condition for the cover. We first noticed the record with a start price of $3,999. There were no bids. I just re-checked this record and now it is no longer available because the seller pulled it. However, it shows a price of $4,999. My assumption is that the seller had it listed at that price, someone made an offer, and he sold it for something under the asking price. But if you look on eBay, the assumption is that the record sold for $4,999, which would be extremely high market value for this record, although on Popsike they have a version having sold for $7,786, which seems somewhat bogus to me, given that the next highest price is $3,500.
When I first noticed this record the bidding was in the $200 range and I thought, perhaps, there might be a rare opportunity for a bargain on eBay: Kenny Burrell, Blue Note 1543. This was an original Lexington Avenue pressing — the last of the Lexingtons — and was listed in VG++ condition for the record and VG+ for the cover by the reputable seller funkyousounds. This record, of course, has the cover design by Andy Warhol. Anyway, the bidding did go as expected and there was no bargain to be had: The record sold for $985.
I have my eye on this 10-inch Blue Note, not because I want to buy, but just curious if it sells: Clifford Brown Quartet, Blue Note 5047. This is an original pressing that looks to be in probably VG++ cover for both the record and the cover. The start price is in the $500 range and with a little more than a day left on the auction there are no bidders so far.