The Incredible Rise of the $1,000 Jazz Record
The $1,000 bin truly doth runneth over  days. It's quite an interesting phenomenon.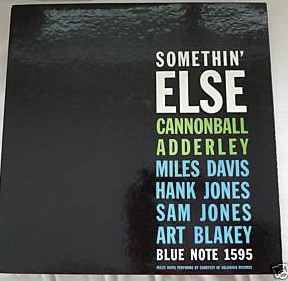 Paul Chambers, Whims of Chambers, Blue Note 1534. This was an original pressing in VG++ condition for both the record and the cover. A few years ago, I bought a copy of this on eBay in similar condition for about $300. At the time, I thought I was overpaying. A few weeks ago I sold a separate copy on eBay for about $325. It was in nice condition, with a VG+ cover. This was not a record I ever expected to see in the $1,000 bin. This copy sold for $1,313.
Here's another one I never expected to see sell for more than $1,000: Cannonball Adderley, Somethin's Else, Blue Note 1595. This is a nice record, but has never been among the higher-priced Blue Notes. The highest price we had previously recorded for this in the Jazz Collector Price Guide was around $400. This copy was in mice M- condition for both the record and the cover. It sold for $1,475.
This one almost entered the $2,000 bin:
J.R. Monterose, Blue Note 1536. This was an original pressing with the Lexington Avenue address. The record was in M- condition and the cover was VG++, with tape on the seams. It was signed by Ira Sullivan. It sold for $1,913.
Lest you assume this phenomenon is limited strictly to Blue Notes, how about this record selling for more than $1,000: Chet Baker, Chet, Riverside 299? The record was M- and the cover was VG++. The price was $1,137. I know this record is aided by the presence of Bill Evans, but we've never seen it sell for a price nearly this steep. There are others to add to this list. I will give more details in a later post, but some of the other $1,000 records to add to the Price Guide include: Sonny Rollins at the Village Vanguard; Sonny Rollins, Saxophone Colossus; Hank Mobley, Blue Note 1550; The Return of Art Pepper; Johnny Griffin, The Congregation, and Kenny Dorham Afro-Cuban.