The Rise of the Second Pressings?????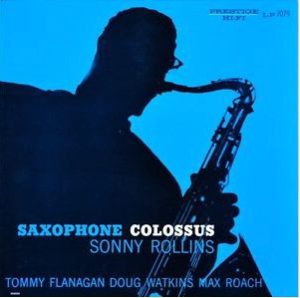 Sorry, again, for the paucity of posts and thanks, again, to Clifford for pitching in. There's a lot to catch up on so let's begin, starting with Sonny Rollins, Saxophone Colossus, Prestige 7079. I think we may be seen a new paradigm taking shape in our Jazz Collector world. This copy was in extremely nice condition, graded M- for both the cover and the vinyl. It sold for $1,002.99, which some might think would be a bargain price for an original of Saxophone Colossus, and, of course, that would be accurate. But this was not an original pressing, but instead was a yellow label New Jersey pressing. I think we're starting to see the rise of the second — and later — pressings because the originals are so expensive and so hard to come by, particularly in near mint condition. Makes me regret that I sold so many of my Liberty Blue Notes for $20 or so when I was selling regularly on eBay in the first part of the 2000s. Then again, the reason I was able to sell those Liberties was because I had acquired original pressings and no longer needed them, so nothing really to complain too strenuously about.
The Saxophone Colossus sale came on the heels of an email I received from a reader asking what I thought about what he described as "the exponential surge of some Blue Note represses." He then included the following links:
Sonny Rollins, A Night at the Village Vanguard, Blue Note 1581. This was a Liberty pressing with the Liberty cover (ugh!) and it was probably in VG++ condition for the record and the cover. It sold for $294.99. Amazing. But then I noticed that the seller was the redoubtable bobdjukic, so it's a bit less amazing and an aberration of the type that is not atypical of this seller.
But then there was Paul Chambers Quintet, Blue Note 1564. This was a United Artists pressing (with a corner cut to boot). The record was VG++ and the cover was VG+. The final price was $154.50.
Jutta Hipp at the Hickory House Volume One, Blue Note 1516. This was also a United Artists pressing, also with a corner clipped. It was sealed. It sold for $190.50.
Originally, I wasn't going to post this note or the listings, because I encouraged the writer to put it in a comment on the site. But when I saw the Saxophone Colossus, and then looked at these in detail, and I thought it was something we should all be aware of, buyers, sellers and collectors. I still have a bunch of United Artists and Liberty Blue Notes, as well as New Jersey Prestiges. I have to rethink what to do with them. Perhaps it's time to sell, or perhaps just hold onto them and see if the market demand goes even higher. I could lie to you and say I'm baffled by these prices, but the reality is that this seems to be the extension of a pattern that has been taking place during the past decade or so. Will it continue? Will it accelerate?
This is the question that was posed to me, and I will turn it around and pose it to all of you:
"I'm curious if you think these bidders/buyers are making uneducated bets or do you think the demand is really rising this quickly? Are there any figures available on how many records were pressed during the re-issue years of the late 60's early 70's? I'd imagine the existing supply to be significantly higher than records from the 50's, yet they're driving some of the same price points.  In full disclosure I've only been collecting Blue Notes for a few years so maybe these are just outliers that you guys are used to seeing?"