Three For the Jazz Collector Want List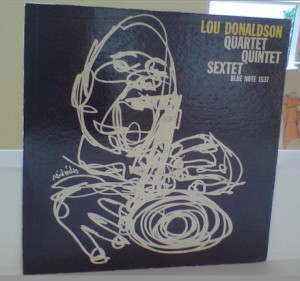 If I had a want list, this record would be at or near the top of it: Lou Donaldson, Quartet, Quintet, Sextet, Blue Note 1537. This copy was an original pressing with the Lexington Avenue address that looked to be in M- condition for the record and probably VG++ for the cover. A very nice copy, indeed. When I first put the record in my eBay watch list, the price was less than $400 and I very briefly considered a snipe. But I knew that my highest bid wouldn't even put me close. And I was right. The record sold for $1,437. So I will save $1,437-plus and also have my Japanese pressing for listening pleasure, so I have no complaints.
I'm surprised this one isn't getting any more action with just one day left on the auction:
Duke Jordan, Flight To Jordan, Blue Note 4046. This looks to be an original pressing with the West 63rd Street address, deep grooves, ear, et al. The record is described as VG++ to mint, and the cover is described as VG++. All in all, a very nice copy. So far the bidding is in the $80 range and has failed to meet the seller's reserve price. I imagine there will be some heavy action at the end of the auction, but I guess we'll see.
The bidding on this one is also light and, in my own interests, I probably shouldn't even be mentioning it here because I may want to bid on it. But, what the heck: John Coltrane, Giant Steps, Atlantic 1311. This is an original black label pressing listed in Ex condition for the record and VG+ for the cover. The price is less than $60, but there are three days left for it to reach it's market level, which will probably put it out of my reach anyway.