Time For Bigger Bins?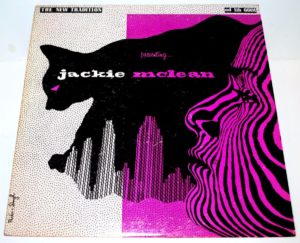 I know others have commented on the previous post, but I can't let this one pass without at least one more word: Jackie McLean, The New Tradition, Ad Lib 6601. This was an original pressing in some kind of condition, perhaps VG+ or a little better. Hard to tell, because the seller used a stock photo as the main picture and then supplemented it, I suppose, with pictures of the actual record, which shows some obvious wear on the front cover, although the overall condition looks OK. You would think the lack of clarity on the description would cause bidders to be hesitant. And perhaps they were. Nevertheless, there were 16 bidders and 27 bids and a whopping final price of $5,035.75.
Then there was Tina Brooks, True Blue, Blue Note 4041. This was an original West 63rd Street pressing that looked to be in VG+ condition for the record and VG++ for the cover. When we wrote about this last week the bidding was in the $1,000 range and we predicted it wouldn't stay there for very long, which it didn't. Eventually the record sold for $3,051, with 45 bids, going from $1,634 to the final price within the last few seconds of closing. I recently did a weird thing with my copy of this record. Curious what anyone thinks: I have a VG+ original pressing with no cover. For years, I've had the record in a plain white cover, hoping to get an original cover to match my record. But the original covers are getting harder to come by in any condition. So . . . . I decided to put my original pressing in a cover from a Japanese reissue. I usually hate mixing and matching like that, but I wanted to see True Blue on my shelf with a real cover, not some plain white cover. It is not The Beatles, after all.
One more: Sonny Rollins, Blue Note 1542. This was an original Lexington Avenue pressing that looked to be in VG++ condition for the record and perhaps the same for the cover. The final price was $1,825. We watch this record often and don't recall seeing it sell for this high of a price in the past. But we can say the same for many records these days.