Today on Ebay: Fuller, Parlan and McCoy (For Sale)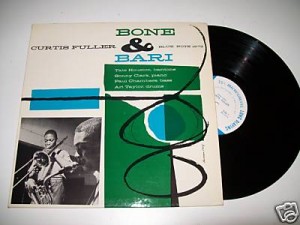 SHHHHHHHHHH. It's so quiet on eBay today we wouldn't want to disturb any of the sleeping buyers and sellers. I have a sense that the economy is starting to wreak a little havoc on the jazz collectibles market — not on the high-end collectibles — but in the mid-tier. We'll see. These things tend to go in cycles. Perhaps it's a good time to be buying. Anyway, it is quite quiet on eBay today, but there are a few things worth noting, including:
Curtis Fuller, Bone and Bari, Blue Note 1572. This is an original pressing in M- condition, both record and cover, and it features an autograph by Curtis Fuller. Not to mention the presence of Sonny Clark on piano. The opening bid price for this record is about $140 and, as of now, there are no bids. In the Jazz Collector Price Guide we've seen this record sell for nearly $700 in M- condition without an autograph. So maybe it is a time to be buying.
Horace Parlan, Speakin' My Piece, Blue Note 4043. This is an original pressing with the West 63rd Street address. The record is VG and the cover is VG++. The current price is about $100 and there's one bid.
Here's one from our friends at Round Again records in Providence, RI (hello, Steve): McCoy Tyner, Inception, Impulse A-18. This is an original pressing, with a cut-out hole, in M- condition. I never thought of this as a collectible, but it's already nearly $50. I have a stereo copy of this record in M- condition, with the gatefold cover and no cutout hole, and I'd be willing to sell it for $50. If you're interested you can send me an email to al(at)jazzcollector.com. My shipping charges are $4 in the U.S.; $8 to Canada; $15 to Europe and $17 to Asia.